Group Sculptures

by
Judith Glover

September 14th - October 13th 2019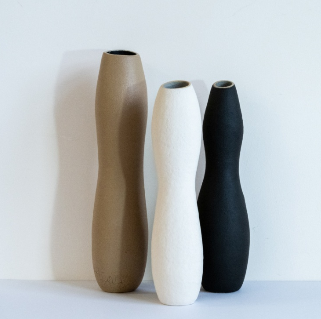 Preview 1 - 4 pm
Saturday 14th September 2019
Refreshments Served
Retirement kick-started a passion for York based ceramic artist Judith Glover. Having seen Giorgio Morandi's still life paintings in the Bologna Gallery of Modern Art, Judith found herself working towards recreating the feel of his work in her ceramics. The paintings of Morandi are known for restrained tones and earthy colours, as well as the way in which he often grouped together tall, slender vases and bottles.
Inspired by this concept, Judith's sculptural vessels are displayed as trios; the relationship between the vessels and the space between them becoming as significant as the objects themselves.
September 14th sees her latest work come to life in Jenny Morten's new art gallery in the Old Town of Bridlington.