July 21st - August 31st 2018

An Exhibition of Collages, Pastels and Photographs by

Judy Burnett  Duncan Grant
Craig Thompson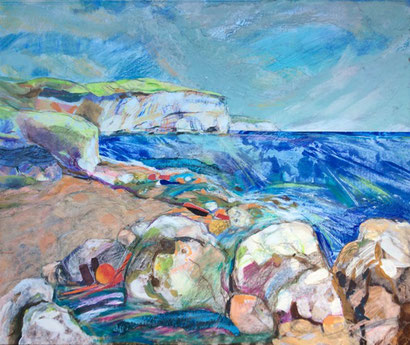 What does 'being beside the sea' mean to all of us?
To children it is to build sandcastles and run from the waves, to adults a snooze in the deck chair or take a stroll along the prom.
To artists it is a chance to step outside the studio, to escape from familiar surroundings to experience the big skies, scintillating light and to capture images of people moving through the magical space in a new light hearted way that only comes from the freedom of release from everyday work.
Every artist will respond in a different way.
In this exhibition we revisit photographs of Craig Thompson's balancing sculptures which may miraculously survive for only five minutes or sometimes twenty four hours before the tide sweeps them away leaving only his photograph of evidence that they were ever there.
Judy Burnetts  intricately woven collages of paper and material are held together by lines of machine stitching wending their way across the surface of monoprints she has previously created.
Duncan Grants oil pastels are small, similarly delicate and yet powerful  produced on hand held cards as he sits out on the moors above the coast in all weathers charting the movement of storms coming in from the sea.