An exhibition of new work
by
Judy Burnett
July 6th - Septmeber 30th 2019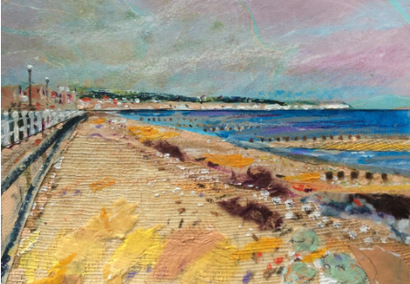 Preview 1 - 4 pm
Saturday 6th July 2019
Refreshments Served
The changing effects of light on landscape and on moving water and the rich textures and patterns of natural forms are the inspirations for Judy Burnett's work.
In this exhibition she has revisited the stretches of coastline around Bridlington, an important visual stimulus on her work since her childhood holidays. She has made a series of mixed media works, echoing the natural patterns of the cliffs and bays and the man - made structures of Bridlington Harbour.
On her journeys to the coast from her York studio, it has been impossible not to be excited by the rich terrain of the Wolds and Moors as they change with the seasons. Judy has attempted to capture these variations in her paintings.
Judy begins her work with observational drawings on location, completing the sketches with a mix of pencil, oil pastel and collage. In the studio the work is developed in a range of media. Monoprints with broad mark-making, collage and acrylic paint draw the compositions together. The aim is to keep the work fresh and spontaneous, echoing the power of the elements.
An exhibition of new Ceramics
by
Lesley Anne Greene
July 6th - August 3rd 2019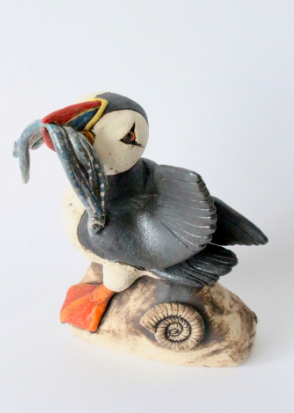 Preview 1 - 4 pm
Saturday 6th July 2019
Refreshments Served
Lesley Anne Greene is a Yorkshire artist who hand builds figurative ceramic sculptures inspired by the animal kingdom. Exhibiting and selling regularly throughout the U.K. for the last 25 years Lesley has created a collection of works using both imaginary and real encounters at home and abroad.
Lesley relocated to the East Riding four years ago and enjoys relaxing at the RSPB bird reserve on Bempton Cliffs a few miles north of Bridlington. The current works for this exhibition are a celebration of the Puffins and Gannets who visit there every year along with other coastal inspired pieces.
Her unique style is animated and expressive capturing the form and character of the subject. 
All works are constructed and modelled individually, painted by hand with metal oxides, glaze stains, glaze and sometimes metallic lustres then fired in an electric kiln at least twice.