'Time and Tide'
An Exhibition of Paintings and Collages

by
Judy Burnett

1st October – 13th November 2022
Preview 1 – 4pm, 1st October, refreshments served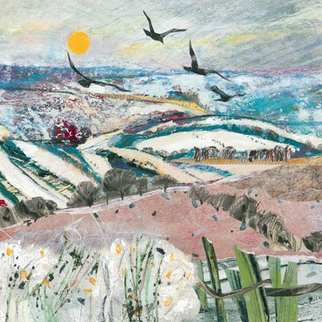 The work in this exhibition takes us on a journey across the Wolds from the River Ouse in York to the Sea. Over time, water in all its forms has created the East Yorkshire landscape, firstly as a melting glacier at the end of the Ice Age, gouging out deep valleys and folds on its way down to the Vale of York - the river Ouse then connecting with other Yorkshire waterways to spill out into the North Sea at the mouth of the Humber and return on the tide to crash onto the cliffs of the Wolds coastline.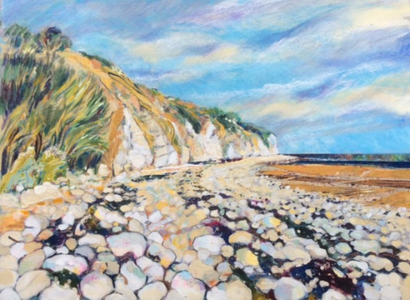 Judy Burnett lives by the River Ouse in York, with a view from her studio window directly onto the Riverbank. The changing effects of light on moving water is therefore an obvious inspiration for her work. The colours and rhythms of the water change with the weather, the time of day, the seasons and the frequent floods. This interest in the luminosity and movement of water is also reflected in Judy's many paintings of the Yorkshire Coast, most particularly at Flamborough Head and Bridlington.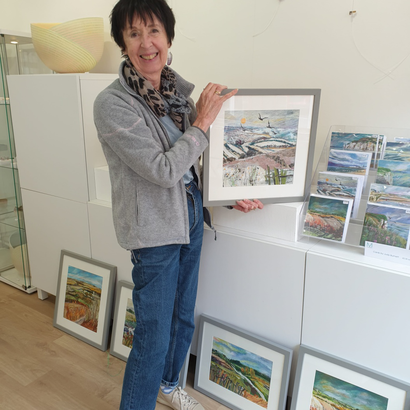 During the past year she has made many trips across the Yorkshire Wolds, observing the rich tapestry of the countryside which links the River to the Sea. Her sketches are completed on-site in varying weather conditions. Back in the studio they are developed in a range of media, utilising hand-printed collage paper and paint. The aim is to keep all the mark-making fresh and spontaneous, to echo the power of the elements at the time of observation.