New Group Show - "Clay"
3rd - 28th November 2010 - The New Davenport Gallery, CA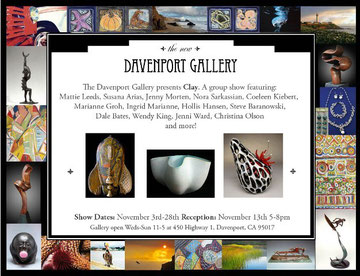 A new group exhibition featuring the work of Jenny Morten at The New Davenport Gallery,CA.
The Davenport Gallery presents "Clay" featuring Mattie Leeds, Susana Arias, Jenny Morten, Jenny Ward, Coeleen Kiebert, Nora Sarkassian, Marianne de Hatten Groh, Ingrid Marianne, Hollis Hansen, Steve Baranowski, Dale Bates, Christina Olsen, Wendy King, Joel Magen and more.
This show is a survey of ceramic form style ranging from the beautiful realistic figurative work of Ingrid Marianne and Marianne de Hatten Groh, to the abstractions of Hollis Hansen, Jenny Ward, and Jenny Morten, with larger work suitable for outdoors from Susana Arias, Mattie Leeds and Coeleen Kiebert. Nora Sarkassian and Christina Olson put their own person spin on form and color. Dale Bates fine raku work sparks with energy. The tiles of Steve Baranowski are crisp and colorful. This is a great look at some of the best local artists working in ceramics and more.
Artists Reception Saturday, November 13th  5-8pm
www.eddickie.com/davenportgallery