Jenny Morten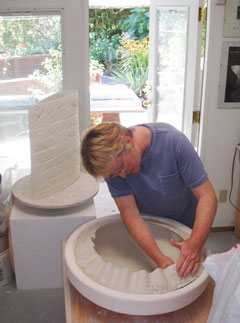 "My ceramic forms are hand built by pinching and coiling, or wheel thrown and altered. I make individual sculptural pieces - mostly vessels, non-functional bowls and hollow vessels.
My concerns are with the balance of the piece - allowing it to tilt or lean and yet, remain standing - emphasizing its fragility and also its strength.
My latest pieces are wall mounted - three dimensional rippling surfaces which have been scratched, layered, textured, painted and burnished.
The larger pieces are painted with coloured slips, wax and oxides, burnished on the smooth areas and fired to cone 04.
The smaller porcelain forms have sgraffito or wax markings covered by a matt glaze and fired to cone 9."